Habilitation and HCBS Services
Habilitation and HCBS Services are aimed at preparing an individual for paid employment. This service teaches the individual basic work concepts and job readiness skills such as following directions, attending to tasks, task completion, problem solving, and safety and mobility training.Based on the individual's interests, skills, and work behaviors, he or she will have an opportunity to explore various types of work.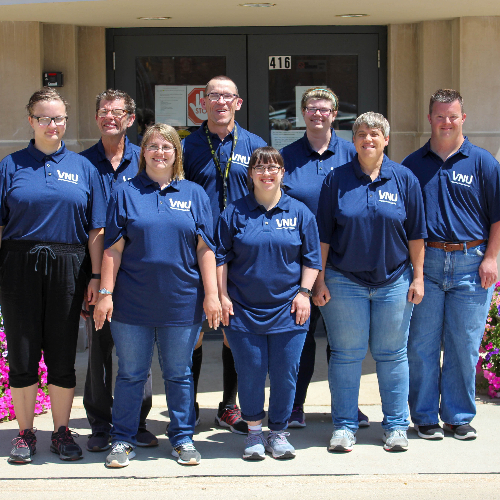 Supported Employment
Small Group Employment (Enclave)
Enclaves are groups of 2-8 individuals who work with a job coach on work skills in the community. Village Northwest Unlimited works with a variety of businesses in and around Sheldon in providing small group employment opportunities.
Employment Services
VNU Employment Services focuses on community based, integrated employment options for individuals served by Village Northwest Unlimited. Our staff seek to find competitive jobs in the community and offer on-going support for those desiring to work. Our staff will evaluate skills and interests of the job seeker that also matches the needs of community employers.

Discovery of Skills and Interests
Our staff help to identify the abilities and strengths of the job seeker and identify potential employment options.

Worksite Assessments and Job Shadowing
The job seeker experiences worksite assessment and job shadowing at various businesses to determine employment options, direction, goals, and training strategies.
Job Placement
Placement of the job seeker in a job that is meaningful for the individual and matches their skills and interests.

Job Coaching
Job Coaching assists an individual in learning the job-specific skills, work habits and behaviors necessary for their job in the community.

Customized Employment
Strategies are developed to meet the needs of both the job seeker and the employer through identification of tasks that could be performed to help improve the efficiency and productivity of the business.
Job Follow-up
The employment specialist monitors employees continued work performance and encourages natural support between the employer and employee.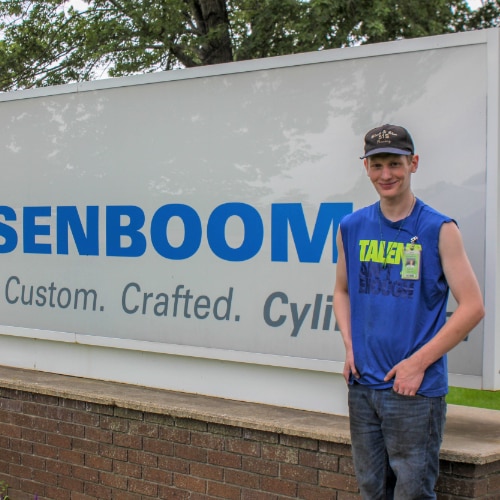 Rosenboom
"Lane is a valuable member of the Rosenboom team. His eager attitude and willingness to learn have given him opportunities to grow and develop at Rosenboom. Lane does a variety of different tasks every day as a member of the Parts Room department. He also has had the opportunity to help out in our Assembly and Welding departments on occasion. Lane has recently moved to a full-time position because of his growth, and this opens up even more opportunities for him at Rosenboom. We are glad to have Lane as part of our Rosenboom team."
-Brittany Gritters, Rosenboom Human Resources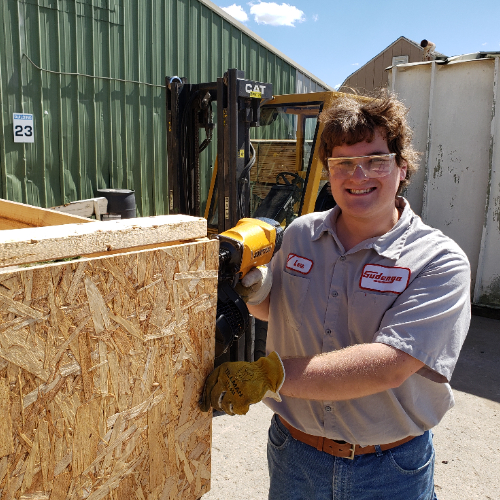 Diversified Technologies
"Diversified Technologies currently employees 7 individuals that were hired through VNU Employment. Five of the individuals perform various cleaning tasks for us. They are divided into two teams, one team cleans the Sudenga Industries offices and the other team cleans the Dur-A-Lift offices, plant restrooms, and the break rooms. Each team is accompanied by a job coach to ensure safety and quality of the work. The cleaning teams work for us two night each week.
The Village has been an effective tool for us to get work done. They provide support when it is needed and are very concerned that the individuals served are able to succeed."
-Paul Funk, Quality Engineer with Diversified Technologies
Interested in Pursuing Employment Opportunities?
Contact Jerry Postma, Director of Quality Enhancement, Admissions and Residential
jerryp@villagenorthwest.org or 712-324-5403