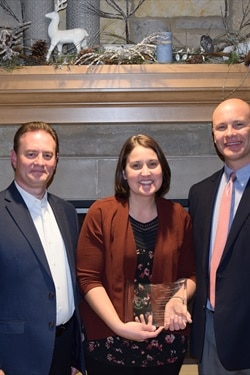 The 2017 Outstanding Employee of the Year was awarded at the staff Christmas party on December 7th.    This year's recipient was Becky Monier.  To receive this award a staff member must be nominated by their peers.  These nominations are reviewed by a committee of past award recipients and the winner is announced at the Christmas party.  Becky was presented with a plaque and a monetary gift by Barry Whitsell and Brian Robyn.
Becky began working at the Village on June 4, 2012 as an Accounting Assistant at Northwest Enterprises (today it is known as the Summit).  She continued in this role until July 27, 2015, when she accepted the position of Corporate Accountant at the Wansink Center.  Becky continues to work in this role today.  As the Corporate Accountant, Becky is responsible for payroll, accounts payable and accounts receivable among many other accounting duties.
Becky demonstrates the Village's mission of purpose, privacy and dignity by the professional manner in which she interacts with co-workers, individuals served, their families, as well as representatives from the Managed Care Organizations and the Department of Human Services, other providers and creditors.   Becky's determination and tireless efforts have been very beneficial to the Village and the individuals served.  Her efforts have improved the lives of the individuals served by making sure the funding is available to allow the Village to provide all the services they rely on.
Congratulations Becky!