November 17, 2020
Village Northwest Unlimited Elects Board Members for 2021
Sheldon, Iowa – The 45th annual meeting of Village Northwest Unlimited (VNU) was cancelled this year due to the ongoing pandemic.  One of the items of business normally conducted at the Annual Meeting, is the election of board members.  This year, the election was completed by utilizing a mail-in vote format. 
Two candidates were newly elected, each serving a three-year term on Village Northwest Unlimited's Board of Directors.  The two individuals elected were Sherrie Zeutenhorst of Sheldon and Ann Maggert of Matlock.  Sherrie is the principal at Sheldon Community High School. Ann currently serves as the firm administrator at Cain, Ellsworth & Company for their Sheldon and Sioux Falls offices. Ann and Sherrie will take the place of two retiring board members, Cindy Barwick of Sheldon, and Kathy Landhuis of Sheldon.  Cindy and Kathy each served on the VNU board for 9 years since being elected in 2011.  In addition, three current board members; Dave Van Essen of Sheldon, Nathan Rockman of Sibley, and Judy Winkel of Sheldon were re-elected to the Board of Directors.  Each of them will serve a three year term. 
Other board members are Barry Whitsell, of Sheldon; Dennis Ten Clay of Sheldon,; Duane Muecke of Sheldon; Heidi Brown of Sheldon, Chad Petitt of Sheldon, State Senator Randy Feenstra of Hull, Amy Van Marel of Sheldon, Paul Truesdell of Hospers and Pastor Marvin Lindley of Sheldon.                                
About Village Northwest Unlimited:
Village Northwest Unlimited is nationally recognized as one of the premier providers of services to people with intellectual and developmental disabilities, autism spectrum disorder or traumatic brain injuries.  Village Northwest Unlimited builds successful lives for 180 individuals by providing opportunities and choices in residential, vocational and social programs while fulfilling its mission of providing Purpose, Privacy and Dignity.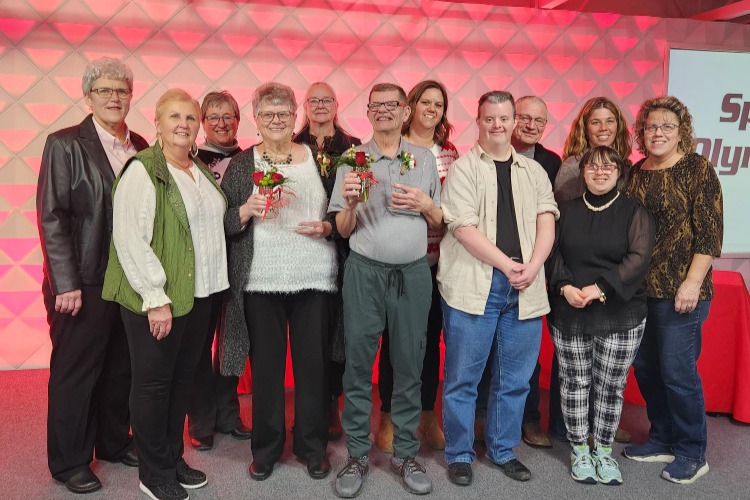 Pictured Left: Ann Maggert    Right: Sherrie Zeutenhorst
FOR FURTHER INFORMATION CONTACT
Ryan Haack, Director of Development
Village Northwest Unlimited
330 Village Circle – Sheldon, IA 51201
712-324-5405 (office)
rhaack@villagenorthwest.org