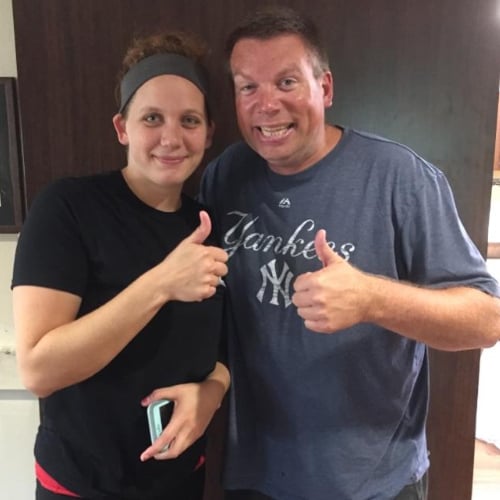 2018
November Staff Person of the Month
Kirk Nelson grew up on a farm in Pottawattamie County in Southwest Iowa. Their farm was in the hills and had lots of timber. It was a great place to be a kid and his brother, sister and Kirk had lots of fun exploring and pretending. They had numerous cousins who loved visiting and spending the night and being a part of their adventures, whether it be building hay forts, catching frogs, hunting sparrows, or exploring the timber. They had lots of pets, too many cats and dogs over the years to even begin to remember. They also had pet pigs and once a pet calf that had been born blind. They spent so much time with the calf that he pretty much thought he was a person and would follow them around everywhere! They had pet raccoons on more than one occasion, as well. People asked him if his parents were concerned about rabies. He always answered,
"It was just a raccoon- who cares if he gets rabies!"
Their address was Honey Creek and the nearest town was the little village of Loveland, but he called Missouri Valley his hometown. That's where they attended church and school and such. After high school he attended Wayne State College. His plan was to attend law school afterwards, but at the last moment he decided to go to Bible College instead and become a preacher. He still doesn't know if that was a good decision or not. It's not that he wanted to be a lawyer, it's that he wanted to enter politics. He knows it was a good decision to not do that. What he really wanted to do when he was young was write Western fiction. When Kirk was 29 years old, he found himself unemployed that winter and wrote a short novel that he managed to get published. Any success was short lived, when he got his first royalty check, and his friends said, "You should frame that!" Instead he took it to the bank to cash and it bounced! His publisher soon went bankrupt. He still dabbles in writing, but just for his own pleasure.
Kirk has worked at the Village for six years. When he started, it was a job until he found a "real" job. But he has liked working here since his second day. (The first day all he did was watch training videos.) He enjoys working in different areas and building relationships with a lot of the people we serve, as well as working with lots of different staff. He had the opportunity to go on Special Olympic trips and those were lots of fun. He also liked being part of the fledgling autism program and that first year working with Ryan, Muriel, and Jenna was an adventure (lots of laughs, though it did often make them want to pull their hair out – him at least!) He's always enjoyed the relaxed atmosphere around the Village, with just enough craziness to keep everyone honest!
In his spare time (Spare time? He works at the Village – he doesn't have any spare time!) Kirk enjoys learning about native plants and honing his plant identification skill set, which sometimes includes tasting fruits from unknown plants (to the chagrin of co-workers if they are out walking on the nature trail), woodworking, and spending time with his grand-nieces and nephews, two more of which are due to arrive this Spring.
Thanks Kirk, for sharing a bit of your life with us!