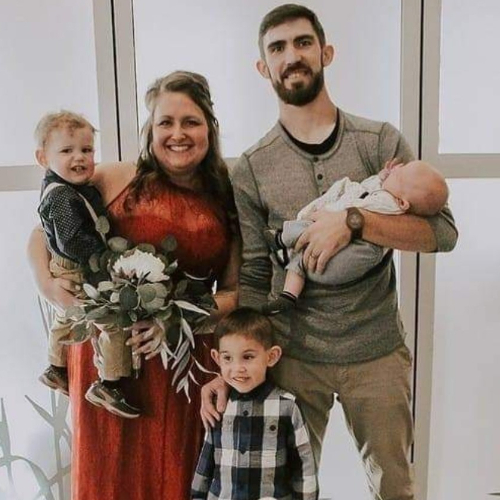 May 2019
Staff Person of the Month
Our May staff person of the month is Lindsey Martin. If you haven't met her, you've likely met one of her parents as both also work at VNU. Her dad, Terry, works at the ACT Center and her mom, Janelle, is a nurse at House 342/346.
Lindsey was born and raised in Sheldon. She has two siblings, Jeffrey and Kellie Jo, with Lindsey being the oldest. She attended Unity High School in Orange City where she was involved with choir, band, and a women's choir. She loved doing a talent show for Homecoming three of her high school years. She actually started working at VNU during her sophomore year of high school in 2012. She started working part-time in the kitchen at House 333/370. After attending college at Northwest Iowa Community College to get her general education classes done she started working full-time at VNU. She started as a Residential Skills Trainer at House 333/370, then moved with the group to houses 342/346 when they opened. After two years she moved to work full-time at 1520 Pine St. for a year before returning to 342/346 where she currently works. She is currently attending Food Service Technician classes and helps out with Safety and Sanitation for house 346. She is unique in that her only job has been with the Village!
Some special memories she's had while growing up include going to the Labor Day parade, as well as some special vacations with family to the Black Hills and seeing Mount Rushmore. She loves spending time with her family, which includes a year-old cat named Pepper. Her hobbies included singing, reading books, watching movies, going for walks and bike rides, all with both her friends and family. Her dream is to go back to college at some point but isn't quite sure for what yet. She would love to travel more, especially to Europe. She did say she hopes to continue working here at the Village though.
She said "the Village has become a second family for me. I really enjoy working at the Village because each day is different and you don't know what is lying ahead of you each shift. I enjoy working with all of my residents, and they bring so much joy to my life."
Thank you Lindsey for sharing with us this month and thank you for the joy you bring to all those you work with and serve!