August 2019
Staff Person of the Month
It was challenging to catch up with our staff person of the month, Teresa Gardfrey, because she is one busy lady! Teresa was born in Sheldon and spent her growing years in Sheldon.
Perhaps Teresa's high school years were an indication of her future busy life with lots of activities going on. While in high school, Teresa participated in band and choir all four years, volleyball her freshman year, basketball 9th and 10th grades, and drama during her junior and senior years. She was in the National Honor Society as well. And from her 10th grade on, Teresa worked all year long at Hy-Vee in various positions. One of her best memories from those years was when the band marched in the July 4th parade in Washington DC and all the various activities, including a concert on the green and large fireworks display. The Tomb of the Unknown Soldier also made a memorable impression.
After high school, Teresa attended Northwestern College in Orange City for one year. She got married in 1999 (that marriage ended in 2014) and moved to Minnesota where she graduated from the Minnesota West secretarial program in Jackson. She then worked at Walmart and Shopko in customer service and other positions.
In 2005, she and her husband moved back to Sheldon. Teresa looked for a job and decided to give the Village a try for a year. She worked at House 354 and had her first child in that year, planning to find something else for a job after maternity leave. And she stayed…a path so many of our staff tales follow. After a year and a half of full time at the Village, she did take a position as an instructional associate with the Sheldon School system. However, she continued with sub positions with the Village including summer/holiday work at the ACT Center and the Summit, and now at three waiver homes. Teresa is a certified job coach for the Summit as well as a MedAid. And to round it off, she does cleaning for 4 waiver homes, as well as filling in at Hy-Vee as a check-out cashier!
Busy, Busy, Busy!
Somewhere in that busy schedule, Teresa is mom to Alyssa, now 13 years old and following in her mother's footsteps with involvement in all the sports, band, choir, and youth group. Her second daughter, Kylie is 9 and has her own sports and church activities. In 2014 Teresa met Steven Gardfrey, marrying him in February of 2017. Together they have a 3 year old son, Jayden, who will be starting nursery school this fall. During the summer months, Steven's three other children from Minnesota live with them – Traizahn, 15; Kelis, 13; and Amaulah, 11. Steven works at AGP in Sheldon and the family attends the First Reformed Church in Sheldon.
Needless to say, Teresa doesn't really have time for hobbies or much down time. The family makes time for going to the lakes for a day or two and Wild Water West every summer. She and the whole family (9 of them, including her mom) are planning to go on a vacation to North Carolina and Florida in August for some fun this year. But future dreams for Teresa include buying their own home and traveling more. She has been to Jamaica several times with her mother and hopes to go again soon, having enjoyed it so much.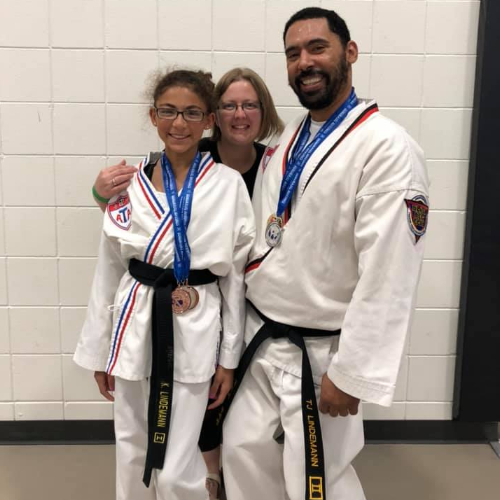 When asked why she stayed at the Village after her one year of initial commitment, Teresa said "it's the residents, of course". She does regret the lack of one to one time that is missing since she first started, due to the time needed for documentation. But she also appreciates meeting a lot of "cool" co-workers in the past 14 years. With those words of affirmation, Teresa breezed out of the office on her way to cleaning a waiver home, after working an overnight shift at another one.