Sheldon, Iowa – Village Northwest Unlimited and the family of Linda De Groot are pleased to announce that Alanah Steeg, daughter of Jessica Brouwer and Corey Steeg, is the 2017 recipient of the Linda De Groot/Village Northwest Unlimited Spirit of Caring Scholarship. Alanah plans to attend Northwest Iowa Community College in Sheldon, IA to pursue a career in nursing.
In announcing the award, Barry Whitsell, Village Northwest Unlimited President and CEO, said, "The Village is excited to award this scholarship to Alanah and to honor the spirit of caring that she has exhibited to everyone. This scholarship was created to recognize Linda DeGroot's spirit of caring. The Village and the residents we serve have been fortunate to experience Alanah's caring spirit firsthand because while she has been attending school she has also been working at the Village as a direct support professional. The residents that Alanah works with enjoy being around her. We are fortunate that she has been a part of the Village family and a part of the wonderful care environment we have at the Village".
Linda De Groot was the Director of Public Relations and Business Development at the Village and was a valuable employee for over 20 years. Linda lost her battle with cancer on October 15, 2006 and this scholarship honors her legacy of caring. The $1000 scholarship is awarded to a graduating senior of Sheldon Community High School who will be entering into a career field that focuses on working with individuals who have disabilities.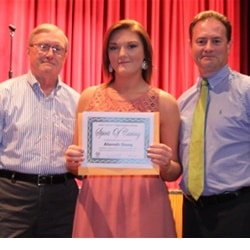 Alanah Steeg accepts the Linda DeGroot/Village Northwest Unlimited Spirit of Caring Scholarship award during the May 18, 2017 awards day at Sheldon High School. Pictured (l to r) are Kendall DeGroot, Alanah Steeg, and Barry Whitsell)