Fast facts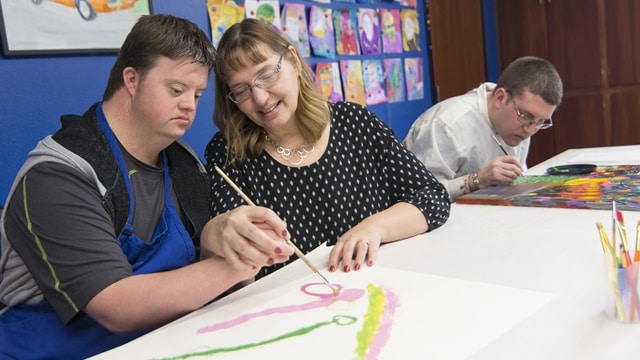 OUR MISSION
Unlimited in our desire to provide 

Purpose, Privacy & Dignity for all people.
COMPANY OVERVIEW
Founded in 1975

Main campus is 27 acres
INDIVIDUALS SERVED
182 individuals, ages 17 & older

from 21 counties in Iowa & as far away as Alaska

Intellectual or developmental disabilities, Autism Spectrum Disorder and

 

 traumatic brain injury
RESIDENTIAL SERVICES
Licensed for 68 beds on campus

19 homes in Sheldon community (9 are client/family owned)

Triplex apartment building

East Oak Apartments

Supported Community Living
VOCATIONAL SERVICES
143 individuals employed (Summit, ACT Center and thecommunity)

Competitive Employment placements (hired by a business in community and make at or above minimum wage)
Supported Employment placements (those paid through VNU to do work as aides on campus or in community but supervised by VNU staff)

Processing center for Soles4Souls,

a charitable organization that collects and distributes shoes for those in need worldwide

Job Placement in community and job

 

coaching

Vocational Rehabilitation contracted services

Pre-Vocational Services
LICENSURE & ACCREDITATION
Licensed by the State of Iowa
Inspections conducted by Department of Inspections & Appeals
Highest standard of accreditation by the  Commission for the Accreditation of Rehabilitation Facilities (CARF)
THERAPEUTIC & PROGRAM SERVICES
SPECIAL OLYMPICS
53 individuals involved in Special Olympics
9 Special Olympics events: basketball, basketball skills, volleyball, softball, softball skills, track & field, bowling, soccer skills, bocce ball
FINANCIALS
$14.7 million annual budget
Revenue  sources: Medicaid, private or client pay, business venture income, county, contributions, other
VOLUNTEERS
117 volunteers
Over 16,800 hours annually
If interested contact Samantha Waterstone at 324-5416
STAFF
315 staff
Payroll & benefits stimulate the local economy by $10.7 million annually
86 staff with over 20 years of service
5 licensed social workers
10 Registered Nurses
38 Job Coaches
Psychologist
Community Employment Specialist
Board Certified Behavior Analyst
VILLAGE-OWNED BUSINESSES
Fantasia features upscale gift selections, a soda fountain, and  a gourmet coffee bar.
Northwest Produce grows vine-ripened, chemical free tomatoes for sale to grocery stores & restaurants.
Village Treasure Chest offers a variety of quality, clean, in-style gently used clothing for the  whole family, plus home décor, household items, and  more.